Automatically send contacts you've captured from a videoask to your Mailchimp Audience with Zapier and easily send your next email campaign. When you receive a new response from your videoask and have enabled the contact form, the contact information you collect will be added as a contact in your Mailchimp Audience.
We recommend setting up this workflow before sharing your videoask with your respondents. If you set up the workflow after receiving responses to your videoask, previously collected contact information won't be sent across to Mailchimp.
Before getting started, here's what you'll need to set up this automation:
A VideoAsk account
A Zapier account
A Mailchimp account
Note: Free plans are available for the tools above.
New to VideoAsk? Check out this guide to walk you through your first videoask!
1. From your VideoAsk account, select the videoask you want to connect to Zapier.
2. Click Connect to other apps.
3. Scroll down the list of integrations until you see Mailchimp by Zapier and click Connect.
4. Click Try this template.
5. You'll now be prompted to sign in to your Zapier account. If you've never used Zapier before, you can sign up for a free account.
6. Click 1. New Response (From a Respondent) in VideoAsk.

7. Click Sign in to connect your VideoAsk account.
8. After signing in, click Continue.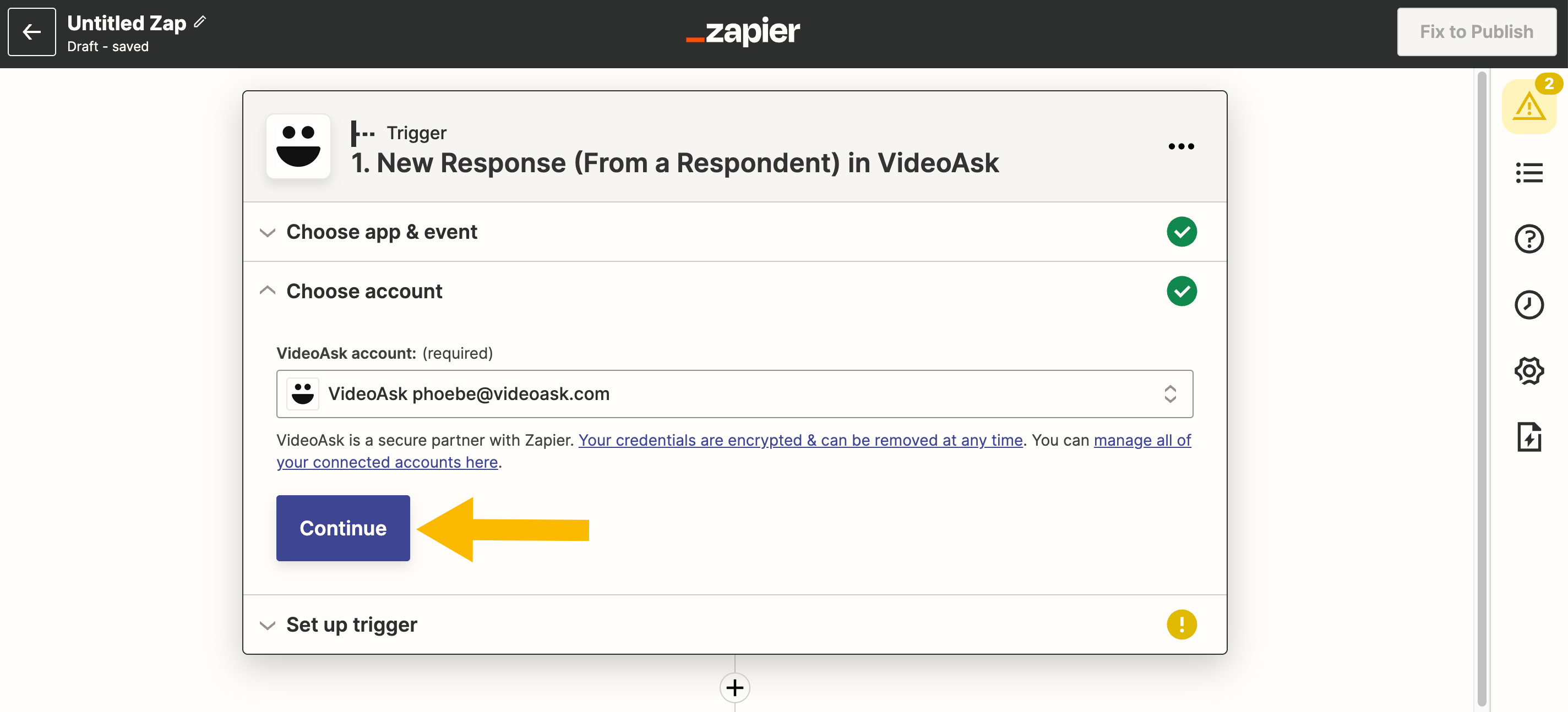 9. If you're part of more than one VideoAsk Organization, select the one with the videoask you want to connect to Mailchimp from the Organization drop down list.
10. Select the videoask you'd like to connect to Mailchimp from the videoask drop down list. You can use the search bar instead of scrolling if you have a long list.
11. Click Continue.
12. You can now test your trigger and check if it's properly connected by clicking Test trigger.
13. When the test is successful, click Continue.
14. Now it's time to connect your Mailchimp account to Zapier. Click Sign in and log in to your Mailchimp account.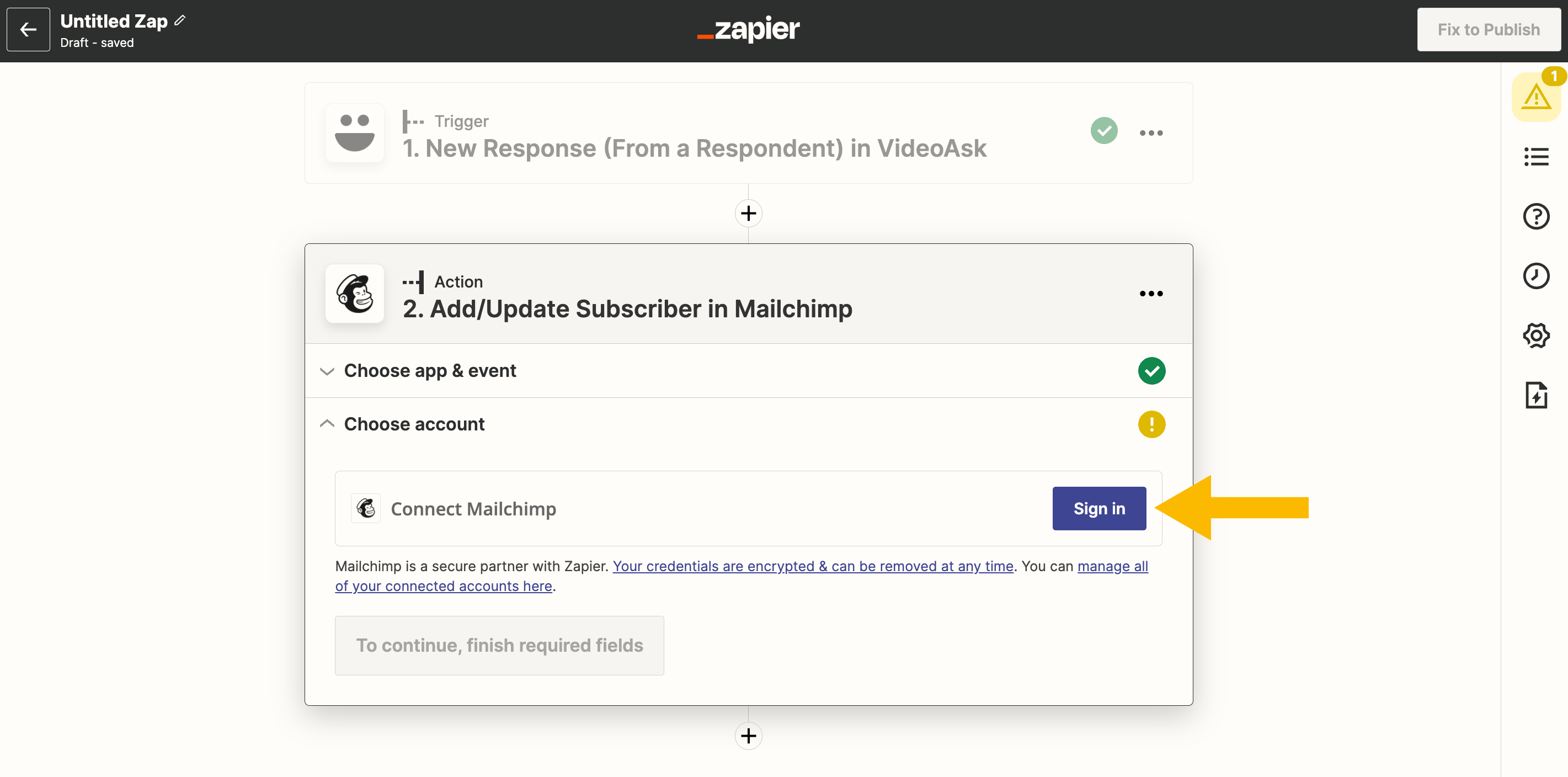 15. After signing in, click Continue.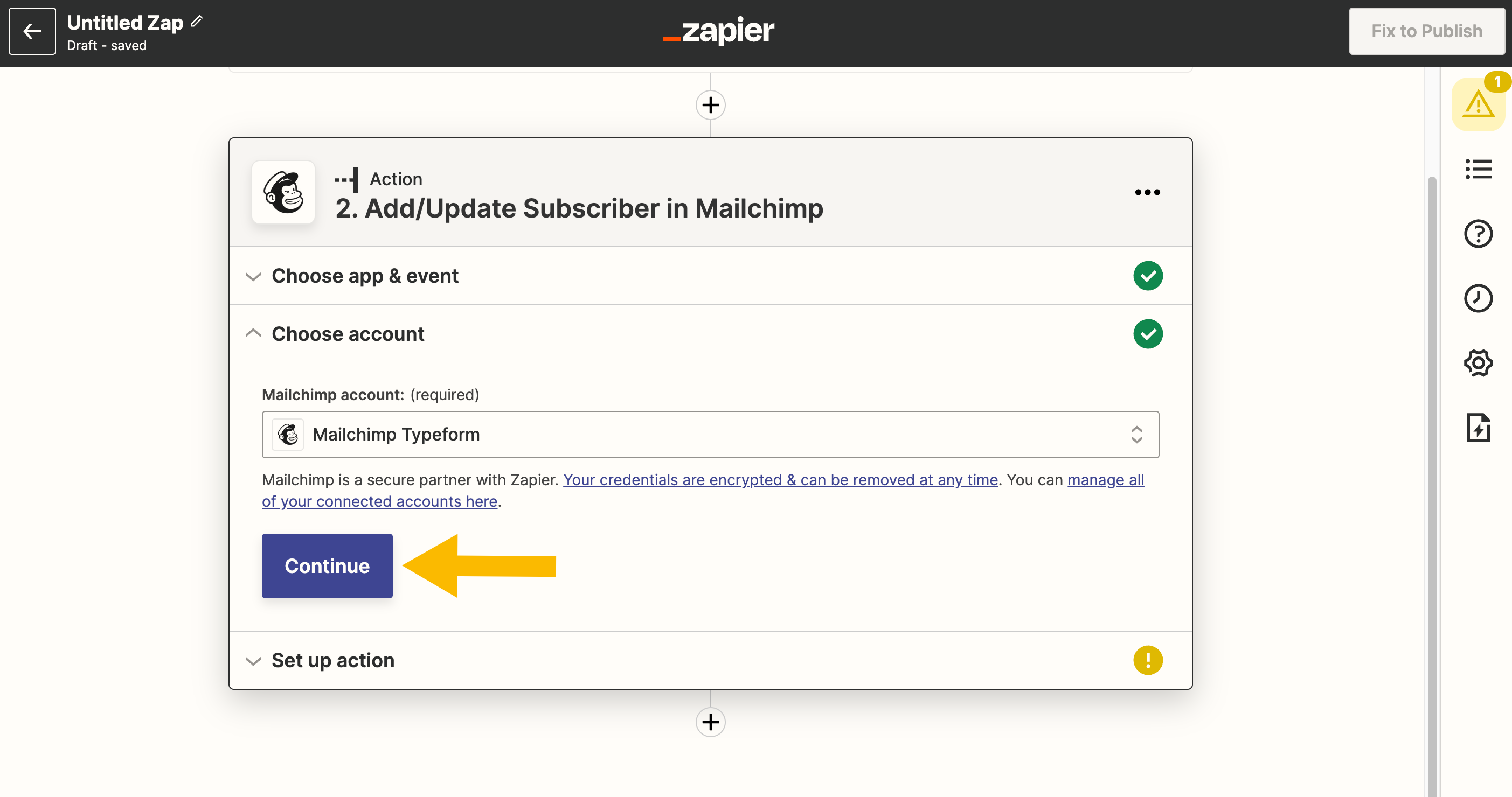 16. Use the drop down list to select the Audience list where you'd like to send contact information or use the search bar.
17. Select any Tags you want to apply to the contact and select Contact Name for the First Name field. We recommend not mapping the Last Name field as the VideoAsk contact form collects the respondent's name in one field. The first and last name of the respondent won't be separated in Mailchimp.
18. Configure any other fields you'd like for your contact and click Continue.
19. Test your Zap by clicking Test & continue.
20. Head over to your Mailchimp account and check if everything has worked correctly. You'll find contacts in the All contacts section under Audience.
21. If everything has pulled through as expected, click Publish Zap to start the automation, or, click on Set up action to make any changes to your Zap.
22. That's it! Now, every time you receive a response to this videoask, a contact will be created in your Mailchimp Audience list. 🎉