You can edit the wording in your videoask's contact form to tailor it to your business needs. Read on to learn how to customize both the contact form prompt and the contact field prompt text.
Maybe you're a wedding planner and want to swap out the pre-populated product name field to ask for the date of your couples' big day instead. Or, perhaps you need to know where your respondents are based. You might not need to request different information to what's already available in the contact form, but want to alter the wording so it's more on-brand and in tune with your company's voice.
⚠️ Important: It's not possible to change the formatting for the phone number or email field. This means that even if you change the placeholder text, respondents will be required to enter a phone number or email address into these fields. We recommend changing the name and/or product name placeholder text if you want to request different information.
1. From the videoask where you'd like to edit the contact form, click Build.
2. Click the Settings icon.
3. Click the + icon next to Language to create a new custom language. Don't worry, we're not going to change the language completely, it's from here we can customize the contact form text.
4. Give it a name and choose the base language (we'll choose English), then click Create.
5. Scroll down to the Contact form section. Here you'll find all the default and placeholder text in your form.
Note: If you're customizing your Contact form heading, use the field Contact form heading (when contact form is the last step) or Contact form heading (when contact form is not the last step) based on the location of your contact form.
6. Type any text changes you'd like to make for each field. When done, click Save custom language.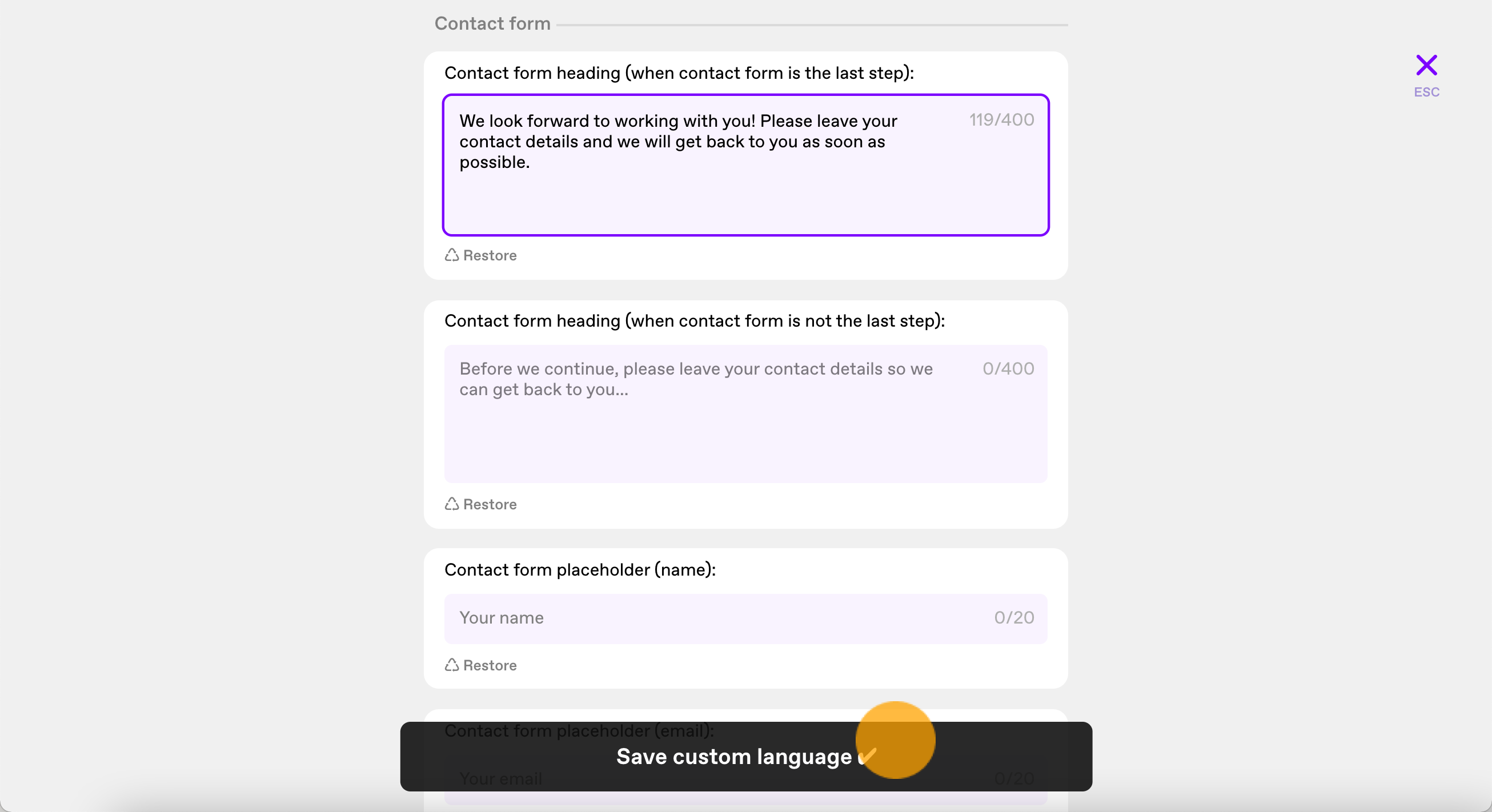 Now your form will display with your own wording. 🙂
⚠️ Important: It's not currently possible to add extra fields to the contact form, but it's a feature we hope to add in the future! For now, we recommend adding an open-ended answer type step (or multiple) to request any extra information you require. We suggest toggling off the Video and Audio options on this step to be sure your respondents provide the information in text format.
Take a look at the example videoask below to see how a customized contact form might look. 👇 This one's set to preview mode so we're not collecting any responses or data.