Once you begin receiving responses to your videoask, you might want to track or analyze them in Google Sheets or Excel. If you're on a paid plan you can download responses as a .csv or .xlsx file for easy analysis in your favorite tool.
To automatically send responses to Google Sheets when you receive them, learn how to connect your videoask using our Google Sheets integration.
💡 Tip: Dive into the data from within your VideoAsk account in the Metrics area of your account or by analyzing the drop-off rate of your videoask.
Not quite what you're looking for? Check out our other integrations or create your own using Zapier.
1. Log in to your VideoAsk account and select a videoask. Click Export answers to a .csv or .xlsx file.
2. Choose whether you'd like to export to a .csv or .xlsx file.
Note: You'll also see the option to download as media files (but this cannot be combined with a download of response data in .csv or .xlsx format).
3. Select whether to include replies in your export. Replies are the messages sent back and forth between you and your respondent after their initial response.
4. If you would like to download only a subset of your responses from a specific date range, enable Filter by date. Click the calendar to edit the dates.
Select the date presets of Last week, Last month, or Last year. Or, select a custom date range by clicking on the calendar. When ready, click Apply.
5. Click Download to start downloading your file.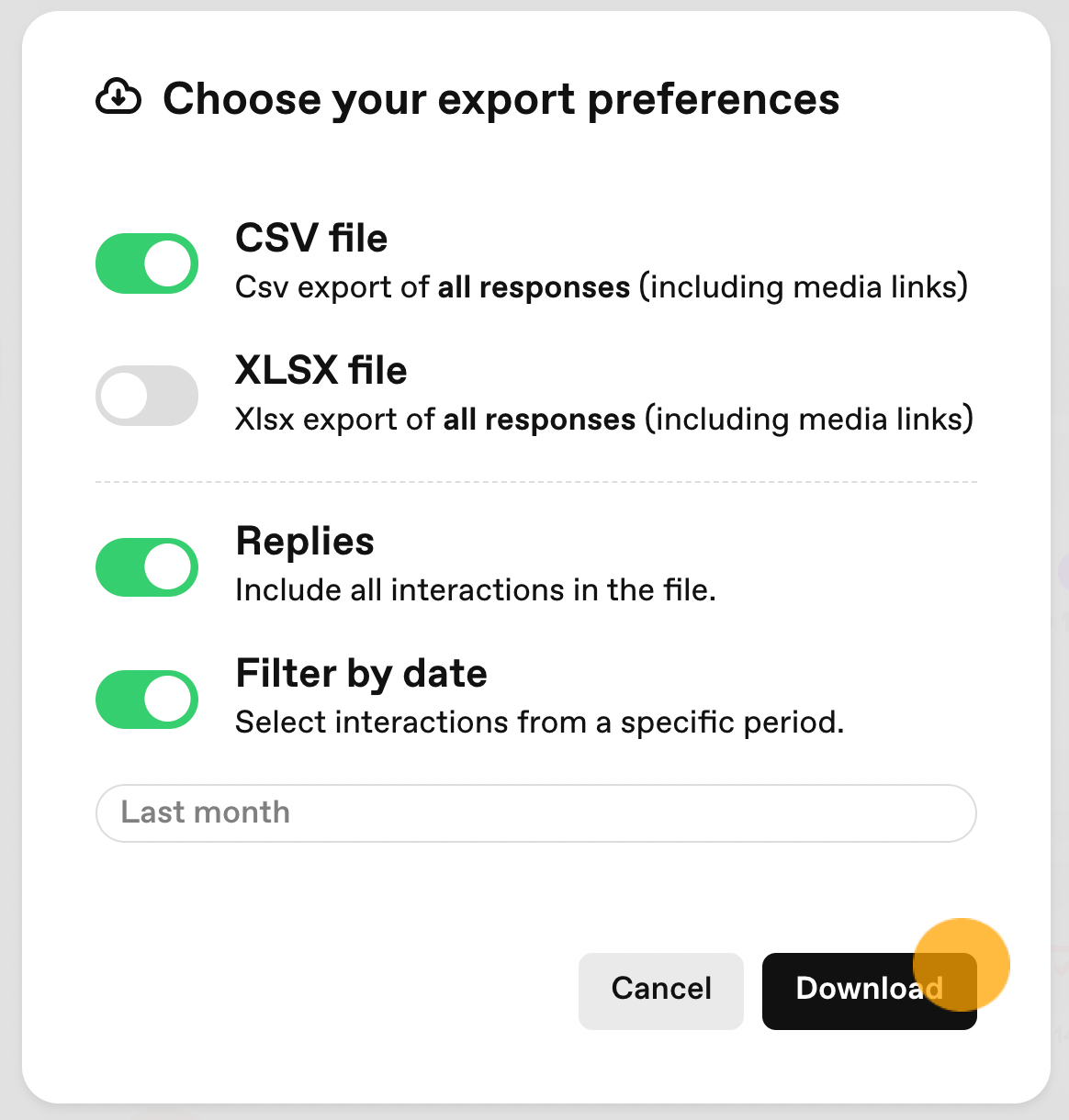 Note: If you have a high volume of responses, this may take a few moments.
6. Open with your preferred spreadsheet software and analyze away!
The following information will be displayed on your spreadsheet:
Date and time of response submission
Respondent name
Respondent contact details (if enabled)
Consent given (if enabled)
Tags (if enabled)
Question answers for each step
Video and audio transcriptions
Media URLs for video and audio responses
File name for file uploads
Note: If you've used the scoring feature, at the moment it's not possible to export respondents' scores.